Heavy rains wreak havoc in Kerala, 13 killed in Kottayam and eight in Idukki, army deployed for rescue
In Kerala, rain continues. Incessant rain in south and central Kerala has brought flood and landslides in many parts. So far, 21 people have died and more than 20 people are said to be missing.
Heavy rains in Kerala have proved fatal for the people. Flood like situation has taken place in many cities. According to reports, three bodies were recovered today following a landslide in Kokkayar yesterday. With this, 21 people have died and more than 20 people are missing in the State so far. 13 people are said to be from Kottayam and eight from Idukki.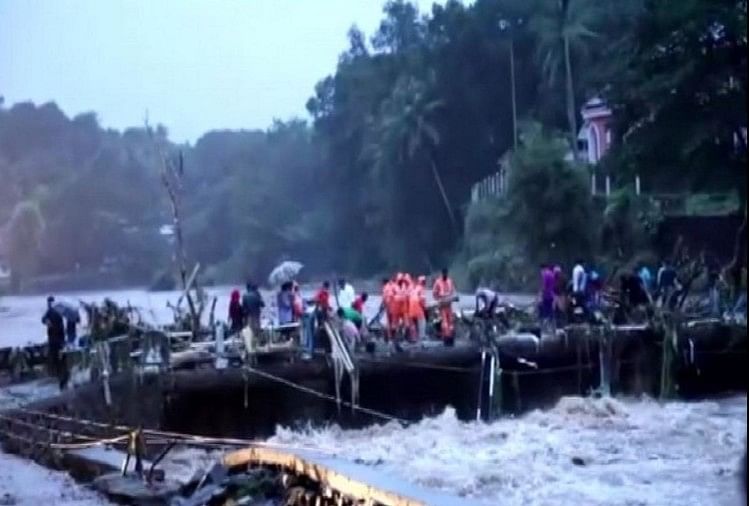 Army has been deployed for rescue. In view of heavy rains, red alert has been sounded in Patanamthitta, Kottayam, Enarkulam, Idukki, Thrissur districts. While orange alert has been issued for Thiruvananthapuram, Kollam, Alappuzha, Palakkad, Malappuram, Kozhikode and Wayanad districts.
Kerala floods kill 21 people and injure 20 so far
In Kerala, the death toll due to heavy rains has gone up to 21. While 13 people have died in Kottayam, eight people have lost their lives in Idukki. This has been reported by the State Information and Public Relations Department. Meanwhile, 20 people have also been reported missing.
105 relief camps set up: CM Vijayan
On the heavy rains in the state, Kerala Chief Minister Pinarayi Vijayan said people have been requested to take all precautions to avoid rain. 105 relief camps have been set up across the State and arrangements have been made to start more camps.
Tags :- kerala news updates,kerala rain update,kerala news,kerala,kerala rain,kerala rains live updates,kerala rain news,kerala live news,kerala rain latest news,kerala weather update,what happening in kerala,kerala covid cases,kerala covid news,kerala rain updates,kerala flood updates,rain updates,kerala floods,kerala floods latest news,kerala coronavirus cases,latest kerala rain update,corona news today's update,kerala latest weather update