J&K to move forward on development path with Dubai government, MOU sign between J&K and Dubai govt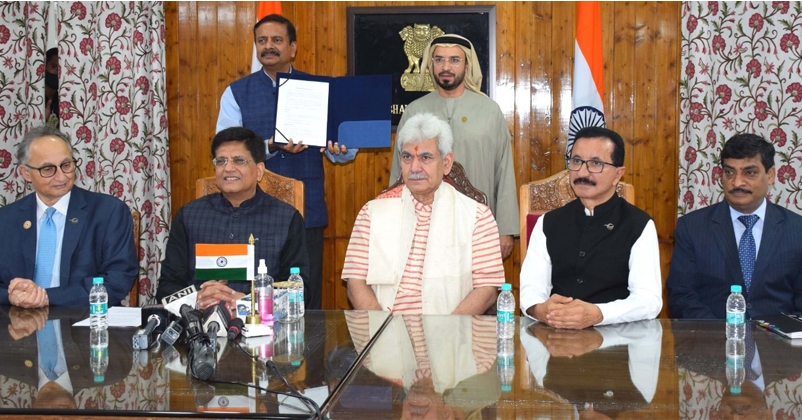 The Jammu and Kashmir administration has entered into an agreement with the Dubai government for industrialization. Lt Governor Manoj Sinha tweeted that the Dubai government and the Jammu and Kashmir government have signed an agreement that will help jammu and kashmir state to touch new heights in the sustainable development of industrialization. Today is an important day for the development journey of Jammu and Kashmir. According to reports, a Memorandum of Understanding (MoU) has been agreed with the Government of Dubai for all developmental schemes like real estate, industrial park, IT tower, medical college super speciality hospital. Speaking on the part, LG Manoj Sinha said that Jammu and Kashmir state will now work with the Dubai government to move forward on the path of development.
Union Minister Piyush Goyal, who was present at the function, said that the whole world has faith in India today. He said India will play an important role in world trade in the coming days. He said an MoU has been signed between the Jammu and Kashmir government and Dubai today. After which people from all over the world will now come to invest in Jammu and Kashmir. Speaking at the event in Srinagar, Piyush Goyal said that the Dubai government has signed an MoU with the Jammu and Kashmir government to give a big signal to the entire world that India is becoming a world power at a rapid pace and Jammu and Kashmir has an important role to play in it.
Tags :- jammu kashmir news,jammu kashmir,jammu and kashmir news,jammu and kashmir,jammu and kashmir encounter,encounter in jammu and kashmir,jammu kashmir terror attack,jammu and kashmir news today,jammu and kashmir terror attack,jammu & kashmir,jammu kashmir terrorist attack,encounter in jammu & kashmir,kashmir,jammu kashmir terror attack today,terrorism in jammu and kashmir,terror attack in jammu and kashmir,kashmir news,kashmir encounter